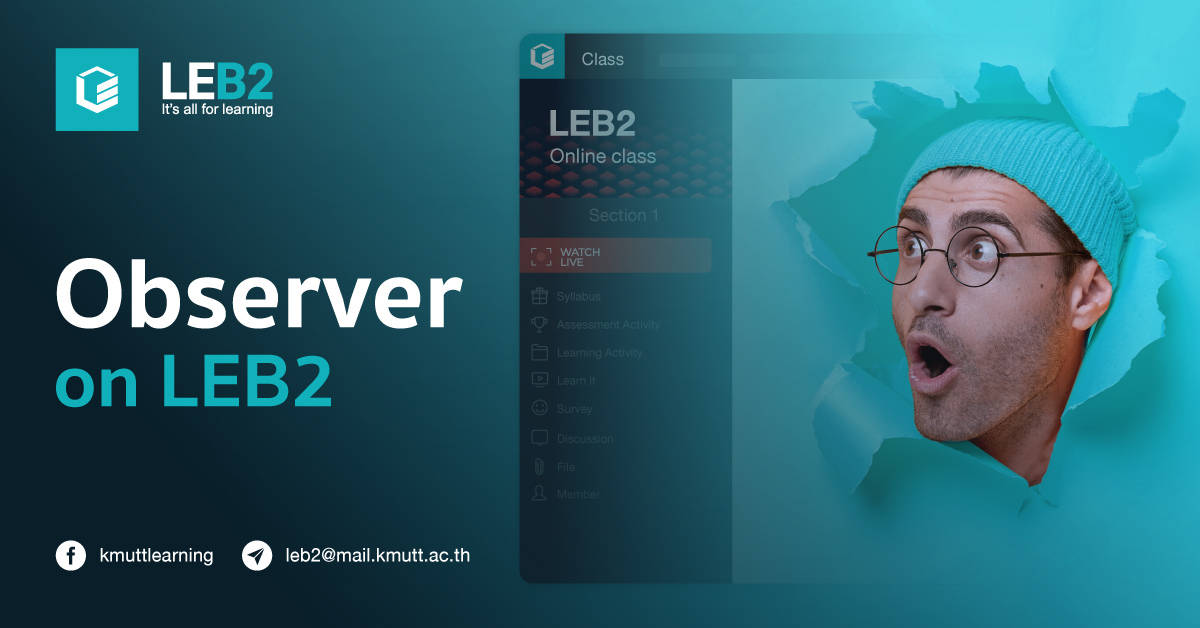 An observer is one of the member roles on LEB2. This role is able to access the classroom once being added to it. However, the role has a limitation on accessing to some features.
How to add an observer ?
Go to "Member"

Select "Observers"

Click "Add"






Search for the name of a person you want to set as an observer

Click "Add"




Student Observer Mode
Generally, the student role on LEB2 has a complete right to do every activities in the classroom. However, if you are set as an observer in a student mode, you will be limited to access some features as listed in the table below.
Features
Student
Student Observer
Visibility
Accessibility
Visibility
Accessibility

Dashboard

✔️
➖
➖
➖

Syllabus

✔️
✔️
✔️
➖

Assessment Activity

✔️
✔️
✔️
➖

Learning Activity

✔️
✔️
✔️
✔️

Learn It

✔️
✔️
✔️
✔️

Attendance

✔️
✔️
➖
➖

Survey

✔️
✔️
✔️
➖

Score Book

✔️
✔️
➖
➖

Discussion

✔️
✔️
✔️
✔️

File

✔️
✔️
✔️
✔️

Member

✔️
➖
✔️
➖

Note:
If you need to change the role of Student to Student Observer, you can change it according to this article 👉 Add / Remove & Change Members.
An observer-student won't be able to leave class themselves.
Teachers cannot add a member as an observer in a teacher mode by themselves right now. If you want your class member to be one, contact LEB2 for assistance.
More Info
Read the student guide here