LEB2 learning platform is developed to support teachers and officers in King Mongkut's University of Technology Thonburi to escalate your teaching perfectly.
For Teachers and Officers
Username: Name.first 3 letters of your Lastname (e.g. somchai.jai)
Password: A password that you log-in university's intranet
For Students
Username : Student ID
Password : A password that you log-in university's intranet
Log into LEB2
1. Go to website www.leb2.org
2. Login by your username and password as mentioned above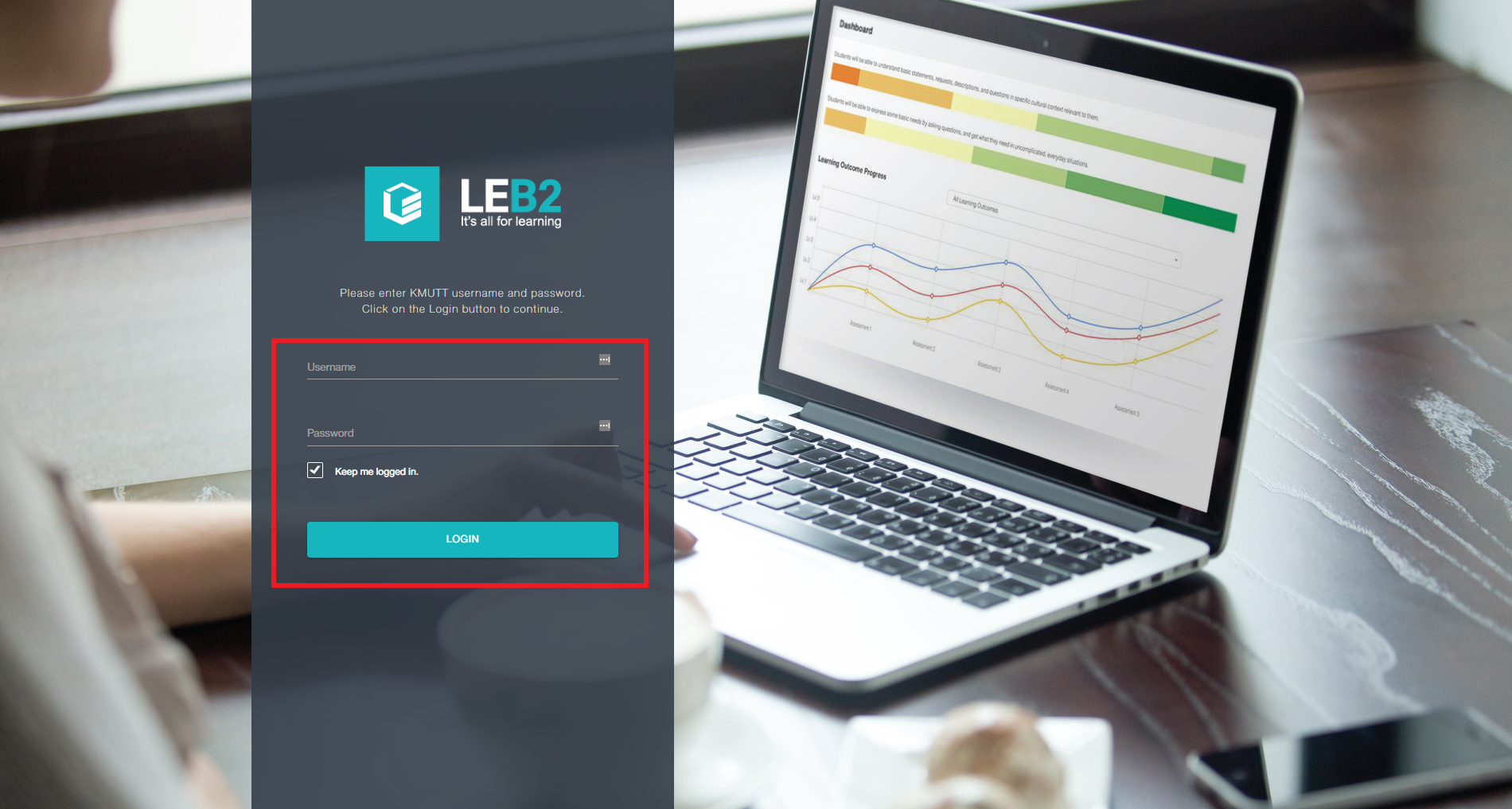 Unable to log into LEB2
If the web page shows "Invalid username or password", please ensure that you enter the correct username. If the problem still persists, you can check your password by trying to access the KMUTT Library's online database system. If your account is still unable to log in, it is possible that your password is incorrect. I recommend contacting KMUTT Computer Center for a password reset.
You can contact the Computer Center to check the validity. Or the latest right to use the internet of KMUTT as well as the activation, Change information or renew your internet account.
Note: Please check whether your contract is still valid. If it doesn't get extended, your right of accessing the Internet Account will no longer available the next day and it will also affect your LEB2 account.
External Officer Accessibility
LEB2 is an internal system using in the King Mongkut's University of Technology Thonburi. For those who want to use LEB2, for example, external officers who do not have access to the Internet of KMUTT, the contract has expired or researchers need to contact the
Computer Center
via Phone No. 02-470-9444 or Facebook :
@cckmutt
for requesting the intranet use for the external officer. After that, log in to LEB2 by using username and the same password that is used to login university's intranet.
Remark
The new students of KMUTT will be able to access LEB2 when they have received their student ID and completed their profile through NewAcis. Wait for 24 hours after the system has updated the information, then get the internet account to get a password through Account Recovery so that they will be able to log in on LEB2
If the new students of KMUTT have any issue with completing their profile through NewAcis, contact KMUTT Registrar vis their FB: Registrar's Office KMUTT or Line: @regiskmutt or call 02-4708154.